Space Alterations and Barriers for SARS-CoV-2
At the height of the pandemic when COVID-19 case rates were high, and the vaccination did not exist space alterations and barriers were utilized as an added layer of protection to reduce close contact exposure and capture large respiratory droplets, respectively. At this time, our primary strategy to reduce the spread of COVID-19 is to become fully vaccinated, stay home when sick, and get tested when you have symptoms consistent with COVID-19. Modified space layouts and barriers may provide an additional layer of protection; however, they should not be the first consideration for your shared spaces and public-facing operations. Prior to considering space alteration and barriers, you must prioritize and consider the following:
DO eliminate the risk by becoming vaccinated.
DO comply with the university's face covering and distancing requirements. 
DO stay home if an employee is feeling ill or sick.
DO get tested if you experience symptoms consistent with COVID-19.
DO perform routine disinfection, and always practice good hygiene.
This guidance is meant to enable conversation about a variety of barriers that may be deployed in various spaces across the Cornell University community. Engage Cornell EHS to assist in the deployment of barriers at askEHS@cornell.edu which may not be considered in this guidance.
Barriers for Community Interaction
Plexiglass, acrylic, or other style of barriers are a type of engineering control that may be implemented for those in need of accommodations through Human Resources' Medical Leaves Administration due to health or vaccination status. Barriers may be appropriate in high-traffic situations, in public areas, retail settings, reception areas. Barriers, and floor markers to promote distancing are intended to provide space between persons during interactions thus reducing the chance of transmission. This guidance document is to provide performance standards for plexiglass barriers and guidance on the prioritization of location where such barriers could be installed on campus.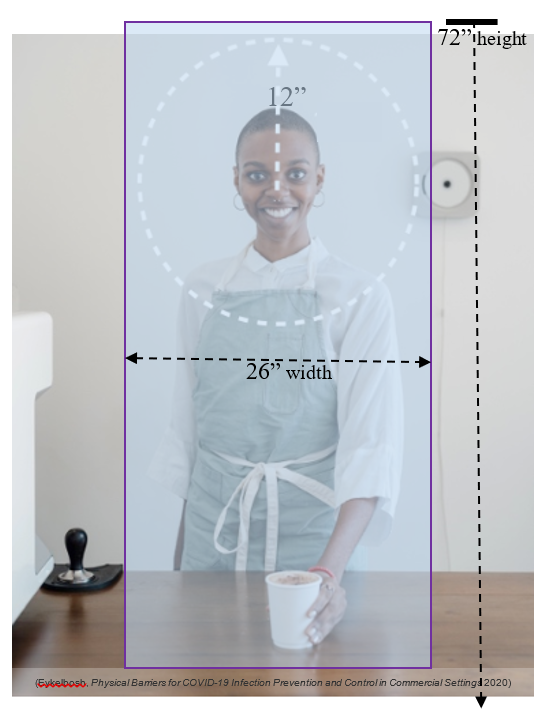 Performance Standards
When materials are selected to build a barrier for customer-service or teaching applications they need to be constructed and secured in a manner so they can be cleaned and disinfected periodically.

Barriers are to be tall and wide enough to protect an individual whether they are standing or sitting during face-to-face interactions under normal circumstances of their operation.

Barriers will be unique depending on the location and operation where they are installed. The intent of barriers is to protect the user's breathing zone, approximately a circle with a 12-inch radius extending from the mid-point between a person's ears

Barriers should be large enough to protect both parties interacting for the entire interaction – there should be no need to step around a barrier.

The height of a barrier should be greater than or equal to six feet tall where feasible. Barrier height includes the height of the countertop, desk, or other surfaces where the barrier is installed.

Barriers width should be greater than or equal to twenty-six inches where feasible.

Barriers shall be constructed and secured in a manner that they do not create a danger to barrier users.

Any barriers installed shall not impede the means of egress for a space.
Any barriers installed shall not block any fire protection features, including, but not limited to smoke detectors, sprinkler heads, CO detectors, fire extinguishers, manual pull stations.
For areas covered by sprinklers, 18" below the head
For areas not covered by sprinklers, 24" below the ceiling

Barriers secured to walls shall not exceed 10% of the wall area. (FCNYS 804.1)
Materials shall comply with NFPA 286, ASTM  E84, or UL 723. (FCNYS 804.1.1/804.1.2). Please contact Environment, Health and Safety for fire code-related questions at askEHS@cornell.edu.
Slots may be cut in the bottom of the barrier to allow for efficient operations, however, slots or opening should never be cut in the breathing zone.
 

What not to do
As barriers are placed around workspaces, keep partition tops 18-24 inches away from ceilings to allow proper air circulation and fire safety.
Don't install shower curtains or other flammable materials as barriers.

Don't use dividers shorter than 5 feet or narrower than 26 inches.
More Information
Eykelbosh, Angela. Physical Barriers for COVID-19 Infection Prevention and Control in Commercial Settings. 13 May 2020, ncceh.ca/content/blog/physical-barriers-covid-19-infection-prevention-and-control-commercial-settings.

"Guidance for Plexiglass Barriers in the Workplace (Updated June 15, 2020)." University of Washington, Environmental Health & Safety, 4 June 2020.